Probably not what you think this is going to be...
I am not going to be a production of The Sound of Music or anything,
I just have some good news and of course, a little movie musing to go along with it!
~~~~~~~~~~~~~~~~~~~~~~~~~~~~~~~~~~~~~~~~~~~~~~~~~~~~
My term is ending with Little Black Dress tomorrow but, I get to announce
that I am going to be on the Design Team at Love My Tapes!
I am super excited!! I mean, hello...washi!!! And lot of other fun stuff!
You can check out their blog, and the other talented ladies I get to design with
HERE
!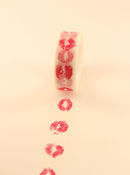 Seriously! How cute is this??
And for my Sound of Music reference, it might be a little cheesy,
but, it was the first thing I thought of when I got the happy mail from Tina...
Maria (i.e. Julie Andrews) quotes the Reverend Mother:
"When God closes a door, somewhere he opens a window".
( and it is such a great movie...lots of happy memories associated with it
and, yep, I did have the big double soundtrack on vinyl...right next to Thriller! )